Jacob Mulenga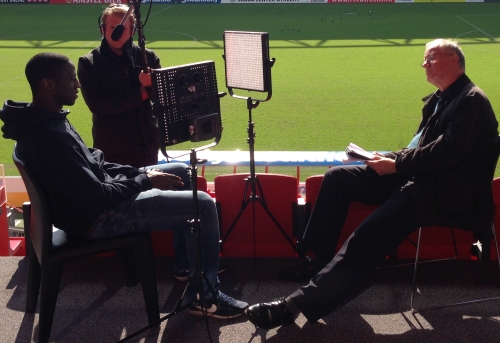 Stuart Weir talks to
Jacob Mulenga
, Shijiazhuang Ever Bright and Zambia (Interview recorded March 2013)
What was your first experience of playing football?
I think basically I was not so much into football at a young age. From my parents' side I came up in a comfortable life from Zambia. I was more into other sports and did motocross. I would say I was attached and addicted to motocross. Every week school Monday to Friday, weekends the parents would always take us off to go motocross riding and racing.
Football came at a later stage probably when I started going to High School - or the last year of Primary School. Then I got a bit more into it. But I mainly just watched. I did not play for any youth teams or academies - just playing for fun at school. I learned a lot basically from watching. I learned a lot from watching on TV. That is where I learned most of my football.
When did you realize you had a talent?
After High School, because after High School I thought OK, now before you decide what you want to do with your life, play football for a bit and see what happens. It wasn't really a serious thing, just for fun, but then the more I played and Kalusha Bwalya (former Zambian player and now President of the Football Association of Zambia) saw me play. He got more into the game and saw me play and said "You know you could play good at it". For me it was still a dream. I would joke about it with my friends in High School, "One day I will play professional football" and I was really attached to Liverpool, watching Liverpool and I said "One day I will end up there" but it was a joke.
You played for Kitwe Afrisports in Zambia?
Yes, I think that was the first team I played for. The first organized football I played was with them and that was at the age of about 18. That was when I knew all about football. You have to train, you have to for more matches on team buses. I did not know anything about that. For me it was just, go home, in the afternoon play, go back. But with Afrisports I started learning and understanding the drills, passing and all that sport. I didn't know any of that. For me it was just run, play with friends. Hit a ball to me and I score. That is football to me.
How did the move to Châteauroux in France come about?
I got selected for the national team when I was 20. I got my first call-up. It was a game against Togo if I am correct. Yes I was turning 20. Against Togo for the World Cup qualifier and I played well. And I actually scored in my first game in the national team and we won 1-0. Kalusha took a chance with me and took me to the next World Cup qualifiers, which were in Senegal and two weeks later in Mali.
We had one of the agents from France. He flew over to Mali to watch the game. He did not fly over to watch me. He was there to watch someone else, they had invited him to watch someone else. When he saw me, he decided he wanted to take me. After I did a couple of trials I went to Bastia (in the French League) but it did not work out. I went to Rennes; it did not work out. They said I lacked a bit of football knowledge which was true for I only knew from TV and the rest was just "Hey. Let's play". After that I went to Bastia for trials and it did not work out and I was actually heading for home when he - he was now my agent -decided to call Châteauroux because he knew the President and said "I have someone I think can develop in a couple of years". So I went to Châteauroux and Châteauroux took a chance on me. "If you say he is good, he is good".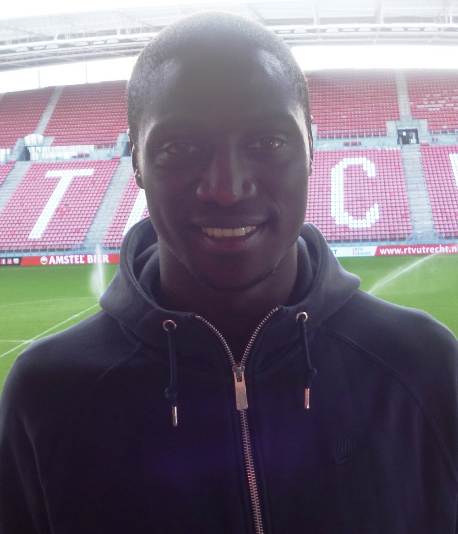 Then in 2009 you came to Utrecht.
That was after playing 4 years with Châteauroux - actually 3 years at Châteauroux and then I had to move for one year to Strasbourg. It went well but at the end it did not go so well. It was a very complicated period and I spent most of the time at Strasbourg being a substitute so it was not a good period for me and I decided to go back to Châteauroux because I was just on loan anyway. Châteauroux had a good season. Then the coaches from Utrecht came over. My agent called me and said, "Listen. Utrecht want someone like you and we want to get you. I was in the last year of my contract; I had refused to re-sign my contract with Châteauroux. I just though, perhaps I need a new challenge. I need to get out of France to challenge myself in a new environment. I had no idea about Utrecht or the Netherlands. I knew nothing about it. It was just something new for me and I decided: "OK let me give it a go".
So you did not play for Liverpool as you once dreamt but against them in Europa League
That was a good moment. I enjoyed it. Everyone back home was just excited "We know how much you like Liverpool" The whole John Barnes and Ian Rush thing. When we played them I was happy to play against them because we were in the Europa League but playing against the team you have always loved, the team you have always wanted and you say to yourself. "OK I will have to work hard to make it to that level". At the end of the day, English football is where you get the best players so playing against then was a big thing for me.
What did it mean to be selected for Zambia for the first time?
Scary! It was scary. I was nervous. It was a whole new world to me. I had never been in front of the public eye that much before. I had no idea what playing for the national team was. You hear about it; you read about it. Now you put yourself in a position where you are ready to be criticized. Everything you do, good or bad, is going to be criticized and you are going to have someone say something about it. I grew up in a small area, a small town and I am more a relaxed person. It was completely different. It was an exciting feeling. The fact that I scored in the first 10 minutes made it much, much easier, something I cannot explain. I can honestly say I did not have any knowledge of Zambian football. I had knowledge of football from video games and from TV. That is all the knowledge I had.
In the Africa Cup of Nations in 2008 you played and scored.
2008? Oh Yes against Sudan. I think I missed the 2006 one. I was injured. 2008 against Sudan was good. It was my first Africa Cup goal. By then I had no experience whatever of the Africa Cup. It was good, a first go at the Africa Cup and the first one is one that you always remember.
And you played in the 2010 Africa Cup
I think that was one of my best moments for the national team because in that moment I felt I could not be stopped. Scoring gives you a lot of confidence. I was doing things that I was thinking, "I am on a completely different level" in the national team. Just push through and I will get things done easily. It all came from the build-up, being in Utrecht and playing all the games. It helped me become a completely different person and when I went there I had a lot of confidence. It was one of my best outings with the national team.
In 2010 you got to quarter final and lost to Nigeria on penalties. That must have been frustrating.
Yes it was frustrating but I think it came down to not being experienced enough. I had given all I had, playing at 110% in all the games and I didn't know how to hold back. For me in all the games it was go all out. I got energy levels way down. I got so tired. I started getting drained. I couldn't push too hard. The Nigeria game I thought I was OK but I was a bit too tired. I had gone too much and given too much in the tournament. I thought it was a good tournament but lacked too much experience on my part. You are not really mature for that.
At the 2012 Africa Cup Zambia won but you were injured. What was significance of that win for Zambia?
It was really important after what happened in 1994 and us going there. It was really something. And after we got out of the group stage and we won the quarter final game, straight away everyone said "You are definitely going to win it. It wasn't just us, every team we would go up against knew what happened in 1994. They actually knew they were going to play against them but in the back of your mind you know that you are going to take it. The guys were just running and had a fantastic outing over there.
Was it hard for you not to be there?
For me it was really hard. You know in 2010 I played a big role in the Africa Cup and now I could not be part of it. That was a big blow for me not being part of it. But it was such a huge thing. I remember my parents didn't call me while the team were playing, they didn't actually know how to talk to me. They weren't sure how I felt. I knew because I talked to my father before he passed away and friends would say, your father did not know how to talk to you - I don't know what to say to him because I don't know what he is feeling. It must be a sad but happy moment. You are happy but every time someone talks about it, it reminds you of now being part of it. And that side of you hurts. It is a tough period but you just try and balance it as much as you can.
And what about your experience at the 2013 Cup of Nations when Zambia drew all 3 group games and did not progress and you made only one appearance for 15 minutes as a substitute?
The recent one in South Africa, I must say my worst outing with the national team. I was going in, having a good run of form from here. I had just come back from being injured and was playing well. I had a lot of interest from bigger clubs. So you are doing well for yourself. So to go to the Africa Cup and not have a chance to play in the whole three games was really frustrating on my part. I felt so frustrated at the Africa Cup. It really annoyed me but you just stay there for the team. You have to learn to be a professional and be happy for everyone. I knew it was tough. I knew the team had won the Africa Cup before without me.
Going there if you had to go by the records of what was happening and how players were performing back there - not to speak of myself - but to speak of the records I think I had the best records of most of the strikers who were going into there. To go and sit on the bench in the first game and then not play at all was something that was not good for me.
Mentally, I felt really drained about it. I just thought I am one person who does not like to do something when I don't feel right about it. I basically just won't do it. I would rather not do something I don't feel right about. The way I am feeling now about the Africa Cup and what happened with the whole team, it is a stage where I really have to sit down and think what is next. I am 29 and it is not like a phase where you go and learn and eventually you play with the national team. You are either playing or you are not.
Jacob, you are a committed follower of Jesus Christ. How does your faith help in times of frustration?
The biggest thing for me the whole faith in God I have. From the time I have been here I got injured the last two years. I got injured and had to have surgery on my right knee and then I had to have surgery on my left knee. All these were times when I was playing really well, just about to break into the big teams but after the first one - I know everyone thinks you are crazy because I was going though the operation telling them "it is no problem. I'll be back and I'll be stronger than ever. No one will stop me. I'll be back". Everyone thinks you are crazy. It hurts when it happens but you go home and pray about it. I live alone so when I go home I sit. I used to ask God so many times, "Why is this happening to me when I come to you, pray to you, give to you, tithe, do all that. So why is all this happening to me and everyone else is OK. What did I do to deserve this?
After that you get to a stage, after praying it just comes to you - you get like a revelation. Stop. Enough of the asking why. Find out what I want you to learn from this. That was the biggest phase for me. Stop with the why. For me it is always why - why this, why that. But you never want to look at what I want you to learn from this.
I came back from the first operation and the season was just amazing. I think I scored two goals in the first game. I think I scored six consecutively or five consecutively. I had like 7 goals in 11 games in the first couple of months and then I got injured again. So when I got injured the second time, I had already learned this is nothing. This is not the end. This is the beginning. I would always joke about it with everyone and say "Look on the bright side. Now I have two new legs. I can start afresh. Very few have the chance to do that.
I think everyone doubts because already from the first one there are very few who can come back and perform at a high level after knee operations. They get scared. They tend to shy away. After two it is even worse. People back down to say "this is too much for me". I said, "No, I am going to push on". I prayed about it. I knew it was just the beginning. No matter how hard things get. No matter how hard it is, at the end of the day, it is going to end. When it ends, what basically happens is the things you had before are destroyed but eventually you build things that are stronger than they were before. So for me I knew I was coming back stronger than I was before. And if anything, it has given me a time to reflect outside of football.
The mistake I was making and most people make was to put football - this is my life. I live football but there is no way you can live football because it is coming to an end. God knows and you are the only person who does not know it is coming to an end. So you saying you live football when your football is done, then you are going into a deep hole because you have no idea what to do. All your life it is what you have been centred upon, what you have been put on. Now you come to an understanding, this is the period God has given me to perform as much as I can - to have an influence, to make as much of it and to prepare me for the next phase of life. So it is basically just a step.
The second operation was really easy for me. I went in smiling; the road was really easy. I had a night when I broke down. My brother called me and said, "What are you worrying about? You help so many people here. Through God you help so many people here. How can God forget you? Because if God forgets you, who is going to help you? So just step out of your zone and don't let yourself be put down. Just stand on what God says. Stand on what the Bible says. He will never forsake you". And that is what happened.
It is almost like unreal, I think if you look at it. If you look at it, what is happening now and even I, myself, sometimes sit back and I am just amazed by what God can do. For I have come back and become one of the most important people at the club and everyone is like so dependent on you. No matter how tough the game is, if you are on the field they are all waiting for you to do something. And it is happening. The more the wait, the more God lets you score. It ends like that. Yes faith is a huge, huge factor for me.
Have you always been a follower of Jesus Christ?
I think the first instances were always being taken to church by my parents, always raised in a Christian home. Growing up was a Christian type of growing up. Sunday, you have to be in church. Before it was whether you understand it or not, I don't care you have to be there. You eventually get it. I know it is the wrong conception but as a child there are some things that your parents just have to put you in. And some eventually get it, some don't. It is the parents' role to take you there and eventually you start liking it because no matter how you hate something, you are there too many times and you have to learn to make the best of it and an understanding comes in.
I have always been someone in my family who would - like - pray maybe more than others, more than the other family members, someone who would understand more than the other family members. Straightaway you start to look at yourself and ask is there something different about me -with all my other family members something different about me.
I remember when I was in grade 7, I think I was sick for 9 months. I didn't go to school for 9 months, I couldn't run for 9 months. I had asthma, chest problems and they could not figure out what it was. So I was basically in and out of the hospital for nine months. It actually got to the point where they actually thought- my parents thought - I remember going to the hospital with my mum, coming out and she was in tears. I asked her what was wrong but she would not tell me. Eventually I found out the doctors told her "there is nothing we can do. All you can do is pray for we have no idea what is wrong". I think to tell someone that you sort of prepare them to say "listen, you have to be prepared for anything that can happen to your son because we don't know what is going on".
I had doctors sleep over at the house. I almost knew everyone at the hospital and missed class I don't know how long. Then everything just changed. Everything was just a complete changing phase. The time I was sick I had an older sister, she fell sick in South Africa. I think she was studying medicine. She came home and died in a week. There was so much attention on me in the period I was sick that everyone said, "she will just get better fast" and everything. I remember a day or two before she died we had a lot of people at the house praying. They did not know what to do and just said "We will do what we know best. That is pray".
We had everyone at the house praying, too many people praying for her and maybe she became a bit uncomfortable with everyone in her room. I was about 12 or 13 and she asked her other sisters, "Can you ask Jacob to pray for me?"
I am thinking, "how are you going to do that?" because I am sick as well. I am also sick and looking for people to pray for me. She sort of insisted. "She wants you to pray for her. She does not want anyone else to pray for her". OK I decided, "I will pray for you". I was in a bad state already and I said "OK I will pray for you" and the next day she passed away. Everyone was sad but it was something that did not hit me that hard. I had a sense of peace, too much of a sense of peace. From then I felt there was something different about me. Everyone was at the house, everyone was crying, everyone was sad and I would just be OK. All over the house I would look at people crying and I would be OK and just say "No, it is OK". I knew I was a bit different from everyone else and I just couldn't understand it. I think my dad understood it because he started telling me more and more: "you are a bit different in the way you understand things, compared to your brothers and your sisters and your mom. You understand things on a whole different level and when you pray it is a bit different from others".
My dad passed away with cancer I think in October. Even then he would want me to call him and talk about the Bible, read the Bible to him and he would keep on explaining different things.
What do you think God is wanting you to learn through death of your father or from not being in the Zambia team when they won the Africa Cup of Nations?
I think it is a personal experience, only God will tell you what it is. You really have to keep your eyes open and your ears open and your heart just to understand what you are doing. First of all I learned the biggest thing is that you are not in control. No matter how much you try you are not in control of things that happen. And everything else that happens will only happen if God allows it. Nothing happens if God does not allow it. Because if everything happened that God did not allow, the world would be a complete mess. But he has to allow it. But after you understand it, you get that understanding deep inside. And you ask yourself, why would he allow that and then count it all joy. Yes count it all joy because I know I have better things for you.
I know taking away your father or your mother, I know what it is going to do for you. It is going to help you to become stronger. There are a lot of people you will be able to save through that phase. For me now when something happens, I always take the positive out of it, because I know the more you take the negative you are not taking God's side.
The other thing is it just taught me to live day by day - what you do today is enough. I used to take that for granted and being a soccer player when you get to 29, 30 your mind starts racing on, "Oh no. What am I going to do after? Your mind starts putting so much pressure on. And you forget that before you became a soccer player, you did not know that you were going to become a soccer player. And you forget that where you are it was God who brought you there. And all God is trying to get you to do is enjoy what I have given you today because tomorrow it might be gone. But when it is gone I will give you something more that you will enjoy more than what you had. If you have soccer today and I give you an afterlife that is more or less than what you have, you won't find enough joy from it, you know there is a problem and you are not progressing. You are actually going down.
With God your faith actually has to grow. Your faith can't stay the same. I was taught you always need a type of faith for every day. So every time I am here they will ask me about the weekend, what will happen in the game. I always say, "No for me today is enough, I will speak about the weekend when it is there." I can't talk about it, because I have no control over it.
Even with my father passing, he taught me the same things. I would ask him, "How are you feeling today? What did the doctors say?" He would say, "Listen. Just day by day. I have woken up today. I feel much better. That is enough for today. Thank God for it, that I have woken up today and I am feeling fine. Tomorrow, if he decides to take me away, it is tomorrow. For now let us enjoy today".
That is the biggest thing I learned. Patience with God and knowing he is in control. We all sing about it and say "God is in control" but until you have actually been through something you can't actually talk about it. And sometimes that is why he lets things happen. I would be really hard for someone to come and talk to you about something they have never been through. I actually sometimes feel a sorry statement for people who still have their parents because you know one day they are going to lose them. It is something you cannot explain. It is something you have to go though. They have to have the strength to go though it and the best thing you can do is to pray for them and cherish your parents. That's the most important thing.
What difference does it make to you to have Jesus?
It makes the biggest difference ever. Without him I would be so lost. I would be completely lost. It is funny that you asked that question because I told my brother and friends if I did not have Jesus, I would have stopped football a long time ago. I would have quit a lot of things a long time ago. I would have stopped for I had nothing to lean on. I learned I can't lean on my parents. They made me understand, "Listen you can't lean on us". It is just not that way. I would always teach my nephews, "you have God first, you have family and then you have education". Never get it wrong or you are setting yourself up for a big disappointment. So for me it means everything.
Your job is to score goals. What is it like when you score?
It is a great feeling. It is a really good feeling to score. You feel relieved that you have actually done it. I have actually had a problem scoring from the time I moved to Europe. In Zambia it was easy but when I moved here it was a bit harder for me. This is the breakout season for me. This season I have scored like 12 from 18-20 starts so it is really the breakout season for me. It feels good. Overall I love scoring and I want to score all the time. I love winning and I want to win. I don't know how but I want to win.
What does winning and losing mean to you?
Losing simply means the other team was better. I have to step up and work harder and set myself a challenge. I know if I lose a game maybe it's because I could not score. Why did I not score? What could I have done better? It is basically that the guys in front of me were stronger or faster or more alert than I was. In football the only way you are going to score is, maybe, a stroke on genius but most of the time someone has to make a mistake. For every goal someone has made a mistake. So if a team is really alert, extremely alert and there is no stroke of genius, which happens not in every game, there is no way you are going to score. If you have everyone alert there is no way you are going to score.
Can you enjoy a game you lose?
Yes you can enjoy it, enjoy the actions but the ultimate target is to win the game so it is hard. Winning is just the satisfaction you get. This is what we have been trying to do the whole week and we have it so we have achieved it. I think you can enjoy it.
What is your strategy for taking penalties?
I just recently started doing that. I never used to take penalties. I never used to touch them. As soon as there was a penalty I would the first one to shy away. I would be the first one to walk away. There was just something that made you too nervous or too scared. "This is not for me!" I didn't like getting out of my comfort zone. Then I realized that the only way you are going to make it to the top is stepping out of your comfort zone, learning to be creative in uncomfortable situations. That is the only way to make it. You never create anything in a comfortable zone. You have to be uncomfortable. After the injuries it just taught me. I came to a level where I am like, you be the head and not the tail and I am going to hit it.
Let's say you get a penalty on Saturday, do you know what you will do with it?
No. I never know which side I am going to put it. All I know is when I am going there I will be praying most of the time. I will be saying a little prayer. Sometimes you just go and say "God I have no strength but you say everyone who trusts in you will never be put to shame" so I am going and I will hit it.
Are you under pressure to dive in the box to gain a penalty?
There is a lot of pressure. There is really, really a lot of pressure on diving and that sort of thing. The thing is, a blatant dive - when everyone can see that it is a dive. And there are actions where a person is not touched but gets out of the way to avoid being touched. So I do not know how the referees see that one because if I cut inside and I see your foot right high up, I have to be stupid to take my foot there. I am going to jump out of the way and that is where most people have a problem with trying to figure out exactly what happened. Because if he jumps out of the way avoiding to get injured, is that really a foul or is it something he is supposed to do? That is the tough one to call.
Is it hard to draw the line between what you will and won't do?
Not really. You don't really think about it. When you are in the box, sometimes you have to be smart. I never used to go down in the box but now I learned a couple of things. When you are in the box just take your time, be calm and the defender will eventually have to rush and get the ball. And if he does that, let your feet dangle and he is going to hit them. If he does not hit them you are going to get a shot on goal. So he must decide.
What is the pressure like when you a take a penalty?
The first thing is that I have already missed penalties before so there is no more pressure. You just take it and have to be extremely confident and calm because especially when it is an away game everyone is cheering for you to miss. So many sounds and so many people shouting. You can hear people next to you, other team players, making comments, trying to get you off what you need to do. But you know, the team knows. They just pick up the ball and give it to you, "Jacob, take it away. Take us home". You know there is pressure.
You know there is a lot of pressure because at 0-0 you know you can get 3 points or not. Or if you are 0-1 down and you are coming back for a draw or you are going for the win, you know that everything is going to be pointed at you if you miss.
Everybody thinks a penalty is easy but so many penalties are missed. You have to be really, really calm. And the confidence, you see it in people walking up with the confidence they have. I just walk up after praying and sometimes walk up singing, send it one way and keeper the other way.
Where does that confidence come from?
It comes from way back. From being patient and knowing who you are. Very few people know who they are and it is the biggest weapon you have in football when you know who you are. Most of the time you come up against other defenders - it's logical you watch them and you know how fast it is, how strong it is and your mind will always remind you how fast and strong he is. But then do you know more about yourself than you know about him? And the moment you know this guy is fast but I'm faster. This guy is strong but I am stronger. He might be all these things but am way smarter. If I turn left, he can't turn to the left and after you have that confidence to say, "I'll take it".
You said it was important to know who you are: Who are you?
I am a servant of the Lord. It is a good question you read in the Bible all the time "Who are you?" I know that I am extremely blessed. I am someone who can do anything in football. I know my strength does not come from me. It comes from above. So I know what I can do. I know there is no limit to what I can do. That is who I am. I will be challenged. I will be criticized but I have learned how to live with all that - how to be criticized and all that. God won't take you to the next level if you don't know how to handle the pressure so you really have to know the higher you go the worse it becomes. The higher you go every time you miss one ball, you have thousands of people calling you names or calling you stupid. And when you score you have millions saying you are the greatest.
How have you learned to cope with the missed penalty or the missed chance in the last minute?
I think on that one level it is basically the difference between really great players and just good players - just normal players at different levels. You have the normal players, average, then you have the good players, then the exceptional, then you have the great players. The gap is how fast you can forget about the chance you missed and convert the next one. Great players can miss a one-on-one chance and straight away ask for the ball; an average player will miss the one-on-one chance and shy away. He won't want the ball at his feet. Or he will be having a bad game and the ball will be bouncing all over, sometimes you have those types of games when the ball will be hitting your shins and just keeps going all over. But what are you going to do? You have 90 minutes so will you stay down or are you just going to keep on going?
That is the difference I have learned. Every game a chance is coming. You are going to get a chance to score. If you miss it you are going to get another chance. One of the biggest things, not just in football but in life, is we forget that we have an opportunity. We always have an opportunity to do better. You always have an opportunity to be someone else.
Is there something from Bible that you have found particularly helpful?
Jeremiah 29:11 "For I know the plans I have for you". I always remember it for I had it when I was young. It keeps coming every time. I start thinking too much. The battle really, really on being a Christian, is all about the mind. I understand the enemy doesn't want your body - doesn't need it. It is your mind. If anyone can control your mind, they can control everything you have. For me, the mind is an important thing and I have learned how to keep it calm. I try my best to keep it in God's presence.
People might say, you have everything - you have money and fame, so why do you need God?
Because without him you basically don't have everything, you can't have anything and everything that is built without God is not worth building. It would be wasted. It would be handed over to other people. The thing is like in football for me, I am a person who obviously likes nice things. You like cars, clothes, houses and all that kind of thing. You like it and you like to live a comfortable life. But the thing you should not forget is that God is giving you that comfortable life so you can be a blessing to others. You have so many cases where people work all their lives to have $1million, $2million but it is money they will never ever want to spend. It is money they will just keep and it is just for the pleasure of saying, "I have the money". You are working for something you will never take with you, something that time will take away from you. You don't have to be stupid, you have to be knowledgeable. Knowledge is power so you have to have enough knowledge to know what you are doing with your finances.
You also have to know that God is only giving you all that stuff so you can be a blessing to others. That is the most important thing and the thing with me and my family and the thing my father told me "Hey, listen. Don't forget everything God gives you is because he wants you to help others. Otherwise he would not give you so much". We have to ask ourselves, "why is God giving me so much?" You don't need it. You really don't need all that. But God has allowed you to have it and said "I will give you a comfortable life, a big house. I will give you everything you need. And all I ask in return is that you help the less fortunate"… try it randomly with friends. Ask them. "What would you do if you won a million - Euros or pounds. The first thing people would be shouting is vacations and everything and you are asking "would you take 10% or take half of it or a quarter of it and give it away". Most people will back off now you are getting into their private zone.
The thing is how are you going to back off and how are you really going to say, "No" to something you did not have. You did not have anything. "Now when I bless you and I tell you I am taking 10% it is a huge problem for you". From something that you never had.
What are some of the causes you like to be involved with?
Basically helping out with the churches, in Zambia maybe. I don't really talk about it that much but from the time I came over here, I have always been sending money to help out the churches, pastors who are trying to graduate or go to theological colleges and stuff like that. But at the same time I don't talk about it because I know the money I use is basically not my money. It's the tithe money, the church money so it is not my money. I always try to get away from saying, "I do it" because I am not doing it with my money. I am doing it with God's money…God says, "I am a jealous God". Never try and take his glory. Never take what is his.
So I always say. "That isn't mine. That is God's. Causes like helping out kids in Zambia that are less fortunate. Recently we tried to help out people with cancer back home because it's a "third-world" country and if you have cancer basically you have so many people who don't have enough money to help out. Don't have enough money to do and get treatment. And it is something that will usually be discovered at a later stage. Someone, all you have to do because he does not have money, basically he (or she) just sits at home waiting to die. She does not have enough money so what is she going to do? We don't have the kind of government that can say "this will be free". So it is something that I just try and help out when I can. You can't help everyone - wish you could - with the resources that you have. But the few you help will make a difference.
Is it hard to live by God's standards in football?
It is difficult. I am not going to sit here and lie and say, "I live a perfect, God-fearing life". I have problems sometimes. My faith is tested, my faith is challenged most of the time. There are some things that are really hard to do. You have to learn not to forget who you are. It is easy to get trapped and forget who you are. Back home you had everyone telling you, "Don't do this! Don't do that!" but now you have the freedom to do what you want. There is a certain point in your life when it is not good for you to be alone or live alone.
You have so many challenges. You have so many things that come to you. You want someone to talk to. You need someone to be around. God is there and you talk to him but he has given you someone else. I understand it more, why God had to give Adam someone and why Jesus needed to have disciples. Jesus was the Son of God. If he had wanted he couldn't have had disciples but he brings into all of our understanding:
"Listen, there are too many challenges and you need people around you to keep you from some things".
It is just that understanding that I had right now to say, we know Jesus had followers but we have never actually asked, "Why did he have followers?" He did not need to have followers because everyone was following him. But he had to choose twelve who would be close to him, who would always be with him, to understand the importance of being in an area where people know who you are and would be easy to correct you.
Football is performance based but as a follower of Jesus Christi your identity is in him. Is there a tension?
Yes I guess in a sense in the football world, the football environment. It is a harsh environment. There is another side to football that people don't really know - the whole stress, pressure side of it. You are going into a job where you know 1,000 more people want to get your job every day. You know I have to perform at my highest level all the time. It takes a lot of trust from the coaches and everyone. You are criticized and judged a lot and your faith comes into play. You really have to find a good balance between the two.
Do you have to be selfish to be successful in football?
No. Not really. It will come to you. With me playing, they always tell me that I pass the ball too much. That is why you don't score a lot of goals, because you are always passing the ball. You never take the initiative to do something on your own. I tell them, "It's just me. I help out as much as I can". But after you find that it should not be too extreme as well, because you have to take the chance - especially as a striker. You have to be afraid and I think what would happen with me was that I wasn't mentally strong enough to take that chance and to say, "I can take the responsibility" ... As soon as that opened up, I found out how strong I was. I made myself more mentally aware of who I am and being able to take any criticism. After you just sail through, scoring weekend after weekend.
Do you pray about football?
You pray to come out of it OK. Just to have fun. You pray for God to give you the victory as well. You pray for that but at the same time it is important to say, "That is what I want but let your will be done". For what God wants is not what you want. Every time you put yours first, guess what is happening. You will be disappointed.
What are some of your favourite goals?
In 2012-13 against AZ Alkmaar. Corner came in, headed out. Left foot volley, top right corner. Won the game 2-1. For me that was one of those amazing moments.
Coming back from injury, I think it was against De Graafschap. I was on the bench. We were down 0-1. I went on second half, we were down 0-2. After I was sent on everything changed. I scored the first goal, after 10 months out without football. Scored one and towards the end, scored another one. The game ended 2-2. Those moments were important for me.
And of course my first goal over here. I played 10 games and the ball would not go in. It would be going in and someone would put his hand on the line. I thought the ref would give a goal but he would give a penalty. You are thinking, "I am not going to score" and eventually you score. First goal [was] against NAC Breda or Roda.
If someone asked you, how can I have a relationship with Jesus Christ, what would you say?
I think the first thing I would tell them is that it is basically about what it means to give your life to God. Give your life to Christ. And the thing is like OK we all know people say "I give my life to Christ" but sometimes people think they have been cheated into it. Because for everything before making a decision, people have to know what it consists of, what it is about.
Basically sometimes you just talk about all the glory stuff about giving your life to Christ and you forget that following God, or following the Bible is not what it means to live a Christian life, is not something you just sit and do. It takes effort, like in everything you do, you need to put a lot of effort into it. God does not like lazy people so there is no way he will say, "follow me and just sit back and relax". You just have to know that, when I give my life to Christ, your whole life changes.
You are no longer the person you were before. There is a huge possibility, because of the person you are, that you lose friends, that you get into a new environment. You get into new job opportunities, new everything. But people don't actually realize that as soon as you accept Christ, and tomorrow you go to your job and they tell you, "you are fired". It is all of a sudden "I don't need God in my life". But the only thing is that you have been in an environment where you have had no God and no Jesus. You were in that environment. Jesus, he was not in that environment but as soon as you become his follower, Jesus has to take you out, guide you out. God has to guide you out. You find out, OK, I cannot be in this environment, because of the person I am now. Then you have a conflict. You -sort of - have a conflict between who you are and the fact of, I am going to lose so many of my friends. They don't understand who I am.
But like I always say, you lose friends because of God, they weren't really your friends, because some really has to be able to understand you, has to be able to understand who God is. It is the fear factor we have on friends. I also have sometimes like when you talk to someone and you mention God. You can talk about anything with anyone but the moment you mention God, or start talking about God, there is this factor that just draws people back. You can talk about my credit, you can talk about how much I owe people and everything, that to upset me. But once I start talking about God, it is so like a personal thing, everyone just seems to shy away and back off.
I think when you bring someone to Jesus, you really have to help them understand, "Listen, God is going to be the centre of your life. It is not saying you aren't going to have challenges. You are going to have challenges as a Christian and you are going to have trouble as a Christian. The way you handle them and the way you go through them; you basically just sail through them. I like to give people a bit of my examples. I had other friends I was with at the medical centres and some of them have recovered but they are not really playing at the top level. I don't know but it is different. The grace God gives each one from believing. He says, "I will give you the grace to go through all this and to come out of it stronger. So you have to know, you give your life to God. He is in charge now. It is no longer you. He is the one who is going to guide you now.
That I think is the important thing for me when someone is coming to Christ. Let them know that. It's not all about bringing people to say. "OK I come to Christ, come to Christ". But I don't know if you bring me to Christ and tomorrow I tell you, "What happens, I lost my job? What happens? My life is a mess and is falling apart". Obviously it is the way it is. There is no need for the enemy to attack someone when he is not my enemy. Why am I going to attack him?
That is like the case, I don't have to fight against you, if we are on the same side. But the moment you go up against me, I am going to fight against you. That is what you have to understand. Once you accept Christ, you have gone up against everything else. But you know in all that, you are going to be victorious
How does it feel to be recognized in the street?
It is an issue I have thought about and have been thinking about. The impact that I have in Zambia and the impact I have in Utrecht is completely different. In Utrecht I have such a huge impact on here and now I understand it is really hard for someone to have a big impact in their own country, in their own neighbourhood. It is all around people who have always been around so they don't really see that side of you. But in Utrecht it's like they have never seen me and they are having such an impact - just as a person, as a football player. Everything here is this, everybody acknowledges you and appreciates you. In a sense I would say even more than you are appreciated in Zambia. It's, I don't know, if a prophet is not honoured in his own country, it's so different and I am still trying to come to an understanding of that one, of how it basically is.
In Zambia it is OK. It would be "Hello, hello, hello". Here it Utrecht when they see you it's like "Hello, Hi! How are you? What's happening?" I have seen it like an impact. OK, fine it's on Youtube but it's mostly in Holland and then you actually know like "OK". In Holland you are really known because you might be in Amsterdam or Rotterdam or somewhere and everyone will say "Oh, Mulenga. Hi! How are you?" Or you are at the station and somebody will pass by you and, "Oh I know you. I have seen you before. You are a really good player" and stuff like that. There is a huge difference. You just take it in your stride and you have to be really careful what you do because you are such an example to others. You have to be really careful. My dad always told me, "Watch who you hang around with because not everyone will speak to you. Everyone will just take what you are doing at that point and that will be you to them, who you will be described as".
Courtesy of Athletes in Action