Eyong Enoh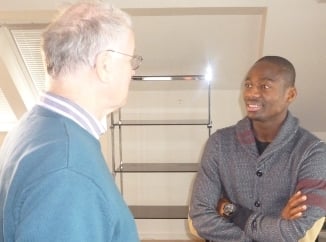 Stuart Weir talks to
Eyong Enoh
, Standard Liège and Cameroon (Interview recorded March 2013
Where did you grow up?
I grew up in Cameroon, in a few other cities but I was born in Kumba. Then my father moved to another city, Limbe, where I did primary school and later on moved to Tiko. It was in Tiko where I really got into football and grew, in the South West of Cameroon.
How soon did you realize you had a talent for football?
In Tiko everybody plays football - in front of the house, behind the house, on the beach, on the road, in school. Everywhere was football. So it was in Tiko that I really go into football. There were more talented friends - more talented than me at the time - but I found myself getting more involved in it and doing a little bit extra - training a little bit more than them and from then on, I just realized that I could play football.
Did you have an ambition to play professionally at that stage?
Every young Cameroonian, with the history of Cameroon football after 1990 had a dream, this passion to one day play football at the top level and it was not different for me, watching the national team. We were so proud and everyone wanted to get to that level. From then I always thought I could get there.
You would have been too young to remember 1990, when Cameroon got to the quarter finals of the World Cup?
Yes. I was very young but even babies can remember the whole atmosphere that surrounded the 1990 World Cup. Memories go a long way from that time and every Cameroonian, young or old, knew about what happening during that period.
And everyone around the world knows about Roger Milla!
Yes he is one of the icons in football in Cameroon and an important figure in Cameroon football.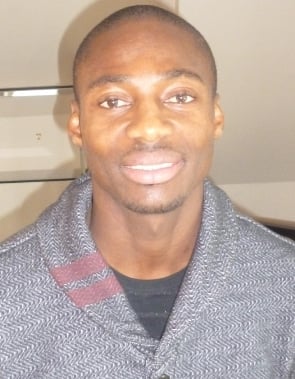 Your career started in Cyprus. How did that happen?

I started very young in Tiko in the Brasseries tournament, a tournament organized for very young players aged between 9-19 years old. During the vacation the young players get into teams and they do competitions. It was from there that I really started. I played in the Cameroon first division at an early age and from there I took my chance to go to Cyprus. It was an adventure. I played in Cyprus for about a year and got in contact with the manager who took me to South Africa where I played with Ajax Cape Town for almost two seasons and then got the connection to Amsterdam to come over and play with Ajax Amsterdam.
Is it every African's dream to get a contract with a big European club?
Yes, that is true. For a lot of players living in Africa it is the dream to get a contract. That is the main objective when they move.
What were the highlights of your time at Ajax?
I went to Ajax in 2008 and it was been very exciting. From the moment I got there I got the chance to start playing immediately. It was a bit strange for me because I had just moved from Africa and getting into such a big club, playing in the Europa League and getting into the Champions League, it was a very big step for me. And not long after I got into the national team. So much happened quickly. For five years it was exciting to play at that level and get to play Champions League and all the big competitions with Ajax.
What was it like winning the Dutch League with Ajax, the Eredivisie?
Winning the Eredivisie, especially the one in 2010-11, was a very special one because the club had not won the league for about seven years, since 2004. So they were really looking forward to that one coming and Ajax needed that win to add a third star on the jersey so it was a very special one. And the way we won it, on the final day, the last game of the league was very special - especially for me, coming into the team and winning my first ever silverware. I was really excited about it.
What are your memories of playing in the Champions' League?
Besides the World Cup, in European Football and World Football, most players would dream to play the Champions League because you are playing among champions, you are playing among the best from different countries. The experience of playing there cannot be explained. It is a part of your career that you carry with you and move on with.
Tell me about some of your managers, such as Marco van Basten and Frank de Boer
Marco van Basten was the person who gave me the opportunity to sign a contract with Ajax. I remember I came for a trial from Cape Town to Ajax Amsterdam to train with them for 10 days. After 4-5 days of training he spoke to me and said, "You are a very interesting player and I think we would like to sign you". At first I was not sure it was true but he said he was serious and that he really wanted to sign me. Playing under him, besides getting to play for Ajax - playing under Marco van Basten, someone who had been one of the top and almost the best in past years, you are more motivated, more inspired to play under such a manager. Also to play under Frank de Boer with all his experience of top level football just inspires you more to play.
In 2013 you went on loan to Fulham and played nine games in the Premiership. What was that like?
I think it has been a dream. I have always desired, I have always longed to get into the Premier League. Especially when I got to Amsterdam I have always put in my heart that my next target should be the Premier League. When I got the opportunity from my former manager Martin Jol, I just thought this was the chance I was looking for to get into the Premier League. It was also good for me to discover what the Premier League looks like - how they train, how the football runs and it sets me on course for the next seasons to come.
How is training different in the Premier League to that in the Netherlands?
In the Premier League the football is a bit different. At Ajax it is all about passing - a lot of passes and little combinations to get out of little spaces and attack real quickly from the side to the middle. But in the Premier League or in Fulham, it is more direct football, from the defence to the right back, straight to the striker. So you have that difference and you don't have that much time on the ball like you would have in Ajax.
At Ajax we do a lot of passing exercises and not too much running; more with the ball. That similarity you don't find that much in the Premier League. The tempo in Premier League football is a bit high because of the constant throwing the ball from one team to the other team. It is very intense. But in Ajax you can really rest because we take out time to keep the ball and take time to recover and the fast tempo isn't always there.
What were your expectations about competing in the 2010 World Cup in South Africa?
Personally I was excited to be with the national team going to the World Cup. As a team the objective was at least to make it to the quarter finals. That was the objective we had with the team. For me it was just big and exciting to get to the World Cup and to discover.
It was a disappointing start for the Black Stars losing one-nil to Japan
I remember in that particular game against Japan we started very sloppy. We were not on our tempo. We did not play the game the way we wanted to. Japan got the opportunity and scored a goal out of nothing. We only came back in the game in the second half, tried to put pressure on and get an equalizer. At the end of it all, it is a World Cup game and who gets a chance and puts it in makes a difference. And we finally lost the game.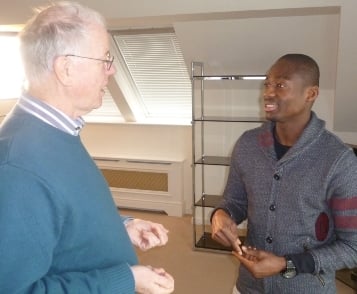 In the second game against Denmark Cameroon lost 1-2 and you got injured.
Yes I got injured in the eye. The game against Denmark was a do or die game for us. We knew we had to win the game at all costs. We had really worked hard in training and put in a lot of energy to go beyond the differences and make sure we win that game. I remember we started the game with a real tempo and everybody was very aggressive. We scored the first goal and got good shape in the game and then one moment of lapse in concentration and they equalised in the first half and it was 1-1. Toward the period before half-time, I got a knock with the ball on my eye. It was very blurred; I could not see properly with that eye and I had to go out. Later when some tests were done there a rupture of ligaments and the eye was bleeding as well. So you had to recover from that for some time. As a result I was not available for the third game against the Netherlands.
Tell me about Samuel Eto'o
Samuel Eto'o is a world-class player. I remember when I was very young and still in Cameroon at school and I was watching him playing for Barcelona and also for Mallorca and Real Madrid, just on TV. And to get to the national team and be playing close to him was, wow! He is a fantastic player, so much quality both in terms of his leadership potential and his ability in the team to bring the team forward. I think he is one of the best footballers in the world.
Before the World Cup in 2010 you were in the Cameroon squad for the Cup of Nations
2010 in Angola for the first game I was not part of the team. I came in for the second. In the third game we qualified for the second round (the quarter final) and we had to play Egypt. I remember Eto'o scoring a goal and I had written on my jersey, "Jesus is Lord" and I had to show that and it was very exciting. I had come to the national team and in my mind it was, "I want to learn. I want to be among those players, the Rigobert Song, the Geremi, to learn from them and pick up for the future of the team. So when I got a chance to play in the team it was one of the most exciting moments for me in that Nations cup.
The Cameroon team seems to me to be talented but not fulfilling its potential.
I would agree with you on that. I think the Cameroon national team has so much potential - maybe even beyond what people see - but we have not been able to realize it since 2010. I think it is a phase the team is going through, trying to refurbish and get a brand new generation. The generation of the team running from 2000 which won the Africa Cup of Nations in 2000 and 2002, that generation up until 2008 when the late Marc Vivien Foe passed away at a game in the Confederations tournament (in 2003), that generation began to fade away slowly and we had to pick up a new generation. I think the last 3 years shows that a whole set of brand new players is coming up and we have to start building on them and quickly forget about all the nice games and all the good stuff we have done and just build for the future.
What do you think about the statement Pele once made that an African team will win World Cup before the year 2000
Pele's statement could have been true. Cameroon in the 1990 World Cup could have won it. After that, in 1994 Nigeria went to the quarter final and in 1998 Senegal went to that level. So you can see progress - not just one team but several teams went up to that level which means African football has really come up to a certain level. And there is just that little extra to put in to get past the quarter finals which could possibly have been an African team, which could possibly have given an African team the World Cup. The whole African continent is on a good march especially with the 2010 World Cup hosted by South Africa. They should keep hope and let's wait and see which team would possibly break that statement and making it happen. There is hope because of the talent you see from Africa, plying their trade in other clubs in Europe, you could see that Africa has quite a talent but putting that together to win the World Cup is something different and may even come from a team that is not even known.
How did you become a follower of Jesus Christ?
I became a Christian, that was a few years ago, about 2002, when a friend of mine from school spoke to me about the Lord Jesus. I did not grow up in a Christian family background. My mum was not the going to church type and neither was my dad. We had a kind of family religion or family church going that we did not really practise. So there was nobody in my family that I would say was a dedicated Christian. And a friend of mine in school spoke to me about the Lord Jesus and it just cam to me like reality. I had been hearing about it from other folks but I just had this impression that it was just one of those crazy people out there, or people who didn't have work to do and were just busy with other things.
But this was a special day in school and a friend spoke to me. He talked to my heart, he touched my heart and the gospel became very real to me. Ever since that day, I have just been in love with Jesus.
What difference does Jesus make to your life?
One of the first things that I experienced was peace. As a young child growing up - in African context you would say that very few parents can provide everything for their kids - and I had that. I was in a good place. My dad was working. We were living well to that standard. But I realized that while all that was in place something was still missing. It looked as if I was searching for something that I could not quite find, not with friends, at school, or in my home. It seemed that there was something that I really needed to know or to get. Once I encountered that message and gave my heart to Christ then I knew I have found the thing because I felt peace in my heart, that peace that cannot be traded for anything. You cannot exchange it for anything. That was one of the key things that made me know that there was a difference with what I had before and what I had later on.
The second thing that came to me that I understood was that I was living with a purpose. There was a reason I was alive. Not just to be another person in the world but I was very unique with a specific purpose that God has already designed for me. Those were two very special things that I could remember becoming very clear to me.
What was the purpose?
The second thing I was saying that became very clear to me was my purpose - why am I alive? Why am I living? I realized that everything has a purpose. But I did not know my purpose. I did not know why I was living. I was almost trying to live to fulfil my father's dream, to do what my father really wanted me to do. But becoming a Christian I realized there was one main purpose to life - to talk about Jesus. And it became very clear to me how and in which way. I realized God had given me a talent and football was part of it. That through football I could preach the gospel also. I could reach certain people, those who do not have that talent and we are not able to reach so football had actually become the pathway though which the Lord would want to use me to reach the world.
You have a lot - money, possessions, a successful career. Why do you need Jesus?
That is a very good question. I remember once I was praying. I will share it briefly because it really touched my heart. I really ask the Lord some questions when I fellowship with him. I remember one thing the Lord said to me, he said: "When you come on the final day of judgement before me, I am not going to ask you how many games you played. I am not going to ask you how many goals you scored. I am not doing to ask you how may trophies you won. I am not going to ask you how many people supported and shouted at you. I will simply ask you what did you do for my kingdom? How many people did you tell about the gospel, the gospel that I came to die for the world" That statement of the Lord really dawned on me, knowing that everyone has a purpose. It is important for everyone to discover the reason they are alive, and to function in it.
Somebody looking at me, I am just in my purpose in God. You could be a banker, you could be a student. You could be a teacher and you have to be in your purpose, which the Lord has designed for you to do. Everyone cannot do the same thing at the same time. That statement would just help everyone to understand you are unique in your own way. You are not going to be another Enoh. You can only be you and understand what you are gifted in and use it to preach the gospel and to bring the saving knowledge of the Lord Jesus to as many people as you can.
Is there something from the Bible that has particularly helped you?
Something in the Bible than really helped me in my life was the question about football. When I became a Christian and most of the statements that I heard were that football was of the devil and that you could not be a Christian and play football. Not only that but also about other certain jobs or professions. You could not be a Christian and be a politician. You could not be a Christian and be a lawyer - because lawyers lie and politicians deceive.
It made me take a quest. I wanted to know what God really had to say because I heard so much of what people had to say. And in talking with the Lord to find out for myself, God took me to the Scriptures in the book of Colossians and showed me that there was nothing made that was not made by him. All things were made for him and for his glory. And then it dawned on me that everything was made by him. That means that football and whatever is there was made for his glory.
He is a creator and he has created so many things and I believe that anyone who is discovering whatever talent you have got, whatever profession you have and discover that, this talent or profession is that means God wants to use it to bring the gospel of the Lord Jesus Christ. It is true and the Lord spoke to me and that is what really helped me personally from the Bible and that is why I am still on this course.
What does winning mean for you?
Winning and losing for me is twofold. The first fold is winning and losing as a Christian. The second is winning and losing as an athlete, as a competitor. And you really have to stand much more as a Christian on that standpoint as winning and losing as a Christian much more than winning and losing as an athlete. Because the winning and losing as a Christian has to outweigh the winning as an athlete. Now if you mix these two, you are going to find yourself trying to win as an athlete and losing as a Christian. Now I believe I don't lose, I never lose. As an athlete it may look as if I lost, but as a Christian I don't lose. I always win. It is the nature the Lord has given to me. I win because I stay according to his purpose and I keep walking in the way that pleases him. If I play a game I can know if I lost as a Christian or I won as an athlete. So in front of people I might have won. But the character that I demonstrate, the life that I showed on that pitch, if it is not consistent with the Lord Jesus, not consistent with the word, then actually I lost. I may have pleased people with my attitude but I really lost and I think that is the most important thing that really matters because Jesus said he has set us as the light of the world. He said "Let our light so shine that men may see our good works" - and when they see that they really will glorify our father in heaven. That is the victory I focus on more as a Christian and as an athlete.
What is the pressure like for you as a top footballer, to perform well under the spotlight?
Talking about pressure which we encounter, I believe this pressure is for everybody. In a way they think footballers and other major athletes have much more pressure because they are more seen. They are on a platform where a lot of people see them. So it is easier for a lot of people to talk about that. But I believe everyone at every level goes through some pressure. Now for me personally having this pressure means just trusting the Lord. The Bible says "Cast your cares on him for he cares for you."
When I understand that, the life I am living is no more my own. It is a life he has died for. He has exchanged his life for my life and has given me a life of peace and a life of joy to live for, then I live beyond myself. I live beyond what people say, beyond what people think. I focus more on what the Lord says about me. It has to do with trusting the Holy Spirit because the Bible says he has given us the Holy Spirit to lead us in the way we ought to go, to lead a triumphant life here on earth. Now it is impossible when you don't trust in the Holy Spirit. It is impossible if you don't trust in his word. It is impossible if you don't spend time fellowshipping with him. I trust in him and I depend on his grace to enable us to keep ourselves in a place of humility, where no matter what you see on the outside, you know all these things can fade one day. So you keep yourself real on the face of Jesus Christ and not try to present yourself higher or bigger than you ought to think.
Coping with disappointments
Disappointments of things not going the way you thought they would go or you wished they would go. The Bible says, "Count it all joy when you go through diverse tests". If we really believe in God and we say we are Christians, we will definitely go though tests and certain disappointments in the world but this is why our faith in God is so important. And he says, "Count it all joy" so no matter what we experience. Sometimes it is really, really difficult; you played a really made game and everyone is on you. But your confidence is in him and you have to go back to the Lord to get your comfort, to get your strength, to get your encouragement again because the same people that hail you today, tomorrow they insult you. So your trust can never really be on man but trust in the Lord for man definitely can fail but the Lord never fails.
So my encouragement, my strength in the moment that looks like failures or disappointments is going back to God and leaning on him for him to encourage me; also fellowshipping with the brethren. When you have fellowship with brethren who have the same mindset with things in line with the word of God, they would always have a word of encouragement for you to keep going on. And most important of all in that disappointment and in that thing that looked like a failure, don't give up your identity. Stay where you are in Christ. Keep your confession in place.
Do you find it hard to live by God's standards in the world of football? Are there areas of tension?
Yes, a lot. To live by God's standards in the world of football - I would say in every world but we are talking football today but I would say in every world, as a student in school there is a standard that the world presents to you; as an artist or entertainer there is a standard that the world presents to you; as a politician there is a standard that the world presents. For me the Word of God is the line by which I live. That is what regulates my life.
And I remember Jesus saying something in the Bible, "I send you as sheep among wolves" that you are in the world but not of the world. He said, "In the world you will have trouble and tribulation but in me you will have peace." Those words of Jesus help me know that being in this world, there would always be a difference between the life I live and the life the world presents. So it is my responsibility to make sure that I stay on track now. Whether I am accepted or not accepted I have known the faith I have come to believe. I have to stay that line.
For a lot of people there could be compromises but I have made up my mind by the help of the Holy Spirit and by the grace of God that I want to keep testifying about Jesus everywhere and living up to his standards and he enables me to do it. And I believe it is possible for everyone. If he did it, it is possible for everyone and many others have done it too, then it is possible.
In football they say, "You are only as good as your last game" but followers of Jesus believe their significance comes from what Jesus has done for them. Do you feel a tension there?
Thank you very much for that question. It is something very predominant in football and in other marketing areas. Literally in the physical sense, if you don't play, your value goes down, which is very certain. It is like market when you are starting school. What sells is more valuable. But we have this encouragement as Christians, knowing that God's purpose and God's plan is ultimate, is higher than what we see and experience. For me personally when I find myself in such a situation when I am only as good as my last game, or I have not played fro some time, I can only encourage myself.
I know the Lord is with me and he wishes the best for me. And I have to keep praying, keep trusting him and keep on working hard. In due time he is going to recompense my patience and my faith.
Have you ever felt under pressure to dive to win a penalty?
No I have never been in that situation. I am more the type of player who wants to win the ball so I am more the person in the tackles. Very few moments do I get tackled.
Do you play to win at all costs? Where do you draw the line?
Winning at all costs, it is up to the individuals. Sometimes it takes a split second to decide the actions you take in a game. But these are not things that just happen. That split second you take to decide should be something that is already formed in your character. It should be an eternal attitude that just comes up some times. You don't think about it but it comes up. It means out of the abundance it came up, out of your heart. So, for me, if you are a cheat, you always act cheatingly. Whether you think about it or want it or not, you act that way and I think it is a code which should be respected in the game, where they talk about fair play. It is for everyone to be aware and conscious at those moments where you are to make certain decisions - in a spirit of competitiveness but also fairness.
At the end of it all, people will still cheat and go the way they like - diving when it is not a penalty, or screaming at the ref that it was a red card when it was not a red card or shouting handball when it was not a handball. And sometimes the referee is caught in it. It will always happen but we are in the world, not of the world. You will always have those things.
You earn a lot of money. Is that difficult to deal with?
No for me it is not a difficult thing to deal with. Money should be the simplest thing to deal with as a Christian. I personally believe that if you are a Christian and unable to deal with money then you have not really made up your mind to follow the Lord Jesus Christ. That should be simple because Jesus said if you cannot handle the simplest thing of the kingdom, how can you be entrusted with bigger things? That is why the people of the world are controlled by money. We, Christians, are different and as a Christian I have come to understand that money comes for a good cause. And money answers a lot of things. With the help of the Holy Spirit and the word of God training you, and giving you a mindset, you see the coming of money as an advantage - to do good and not do evil.
There is a Scripture that helps me a lot when it comes to money. It is in Romans 8 where it says that the "earnest creation groans and awaits the manifestation of the sons of God" and waits for that liberty. I believe it has to do with a lot of things. It could be cars. It could be houses, planes and it could be money. Now these wonderful gifts they yearn to get into the hands of Christians because they know Christians will use it for a good cause. It is the same with money. For me, money is an opportunity to be a blessing to my family, to be a blessing to the church, to be a blessing to my world and to use it rightly.
Are you paid too much?
The issue of footballers is a little bit exaggerated because everybody knows about it. Very few people know what some bankers earn or know about business people what they really get because they do the accountability. But the issue of some footballers and other sportsmen like USA basketball. Or other sports like rugby. This stuff is announced. It is well known all over the world as a huge amount of money. I think that is the impression a lot of people have when current footballers have a lot of money. So it has to do with the structure of the club and what these associations decide to do. People decide to put more money in football and they put value in it. Today, if they stop putting money in football, the value that is in football could move to basketball, could move to rugby or could move to athletics. At the end of it all there is a system in the world that shifts the currency. I am talking at the spiritual level. But at the practical level, if you look at it well, you will see and it is true that footballers are paid a lot of money.
Why was football regarded as sinful?
When I became a Christian, most of the things I heard from most of the preachers and some of the teachers and pastors was if you play football it is a sin. If you become a lawyer it is a sin. The concept was lawyers lie, footballers get into immorality. Some of them get into witchcraft practice - to become popular, to become known. That was the concept they thought you would become popular and become known to get yourself involved in some kind of negative stuff. So for you to be a Christian it is better not to think about these things. Just stay. Just go to a Bible School. Study the Bible and become deacon or just become somebody around the church.
That was one of the main reasons. That was all they knew. That was the knowledge they had at that time about sports and all the gifts. But later on I came to discover that gifts are from God. The Bible says all good and perfect gifts come from above. And the Bible says in the book of Revelation that all things were created for him - for his glory and for a purpose of worship.
So I believe that every talent a person gets is to be used to glorify God. That knowledge was lacking and Christians did not see themselves with that power and that ability from God to dominate and to rule in the world of law, the world of sports. They did not see themselves as limited. And when they did not see themselves in that way, the devil took advantage and put more people in those fields with those gifts and those talents. And they ruled over them.
Can you worship God in football?
Of course, I do all the time! You know I love the Bible, I love the Word of God and I live mainly by what Jesus has said because I read so much in the Scriptures about Jesus, especially the Synoptic gospels. And Jesus said to the disciples: "Lo I am with you always, even to the end of time". Such Scriptures are not just letters but became real to me. And I realized that my relationship with God is all the time. And I am constantly conscious of his presence and his voice wherever I am. Even now talking to you; on the pitch playing football, I am aware of his presence. That is what makes the difference. It is with me everywhere and I am very conscious of it. I constantly worship him everywhere I am. Anything I am doing. Wherever I am doing it, knowing that the Bible says whatever we do, to do it as unto the Lord and in the name of Jesus.
How to love neighbour in football?
That is love. If you read the characteristics of love in 1 Corinthians 13 you will see what love is all about, that picture of love. Of course in the world there has been a lot of definition and different points about love but I believe the perfect definition is in 1 Corinthians 13, which gives a clear picture of what love is all about. Now you can walk in love playing a game. It does not matter what happens to you. It is what you react to. It is not what he said to you; it is what you say back. It is not what is done to you; it is what you do back. That is literally what love is all about.
Love is in the giving not in the getting because if someone says something to you - what did you get out of it and what are you going to give back? And no wonder the Bible says the love of God is shed abroad in your heart by the Holy Ghost. Now when you become a Christian, the love of God fills your heart constantly and you allow that love to flow in you. Whatever you are doing and wherever you are doing it, it is impossible for you not to act in love because the thoughts of love will fill you.
Even if you are tackled you can smile in the tackle - even it is painful. But you will not get up in anger, in hate because this is not consistent with love. Sometimes you lose a game and some players are not willing to shake the hand. You lost the game, that is true, but it does not stop you shaking the hand of another player. You are still walking in love. You appreciate that they were better today but life continues.
Imagine someone says: "I have seen how Jesus has changed your life, I would like to become a Christian. How do I do that?" How would you answer?
Somebody is asking me a question. I have seen your life. I have heard your testimony and would like to come in line with that kind of life you have encountered, which I have done to a lot of people. It is very, very simple. They say in the world there are a lot of secrets but this is the only free secret that is openly given out. Now people do a lot of things to get power, people do a lot of things to get fame, people do a lot of things to get money but this one, you don't need to do anything. Everything has already been done for you.
The Bible says in John 3:16 that God so loved the world that he gave his Son. So you don't need anything, you don't need to give anything. God has already given the ultimate sacrifice and the ultimate release to bring you into a life of clarity, of righteousness, a life of peace and a life of real quietness. For that same Bible says God did not send his son into the world that the world might be condemned but that the world through him might be saved.
And it is very simple - some people make it look difficult. But when I read my Bible it is very simple. In Romans 10:9, "If you believe in your heart in the Lord Jesus, that God raised him from the dead and you will confess with your mouth his Lordship it says you will be saved". It is in the confession of the Lord Jesus Christ that you can receive that eternal life that he paid on the cross. That is how I got it. That is how a lot of people got it. That is how anybody can get it.
When you recognize that Jesus died on the cross, paid the price for you and has taken care of your sins and accept him into your heart, it is by faith...wow how is it going to happen? It is not up to you. It is up to him. He has already done it and you do it by faith and you automatically become a child of God.
2 Corinthians chapter 5:17 says "If any man be in Christ, he is a new creation. Old things are passed away and all things have become new". That is what happened to me and that is what can happen to anyone who makes Jesus the Lord of their life.
Thank you very much, Enoh.
Thank you
Courtesy of Athletes in Action www.theprize.com